There are some cities around the globe with the unique ability of smacking a whole different charm and beauty throughout the year, depending on the time you roam their streets. Chicago is one of them.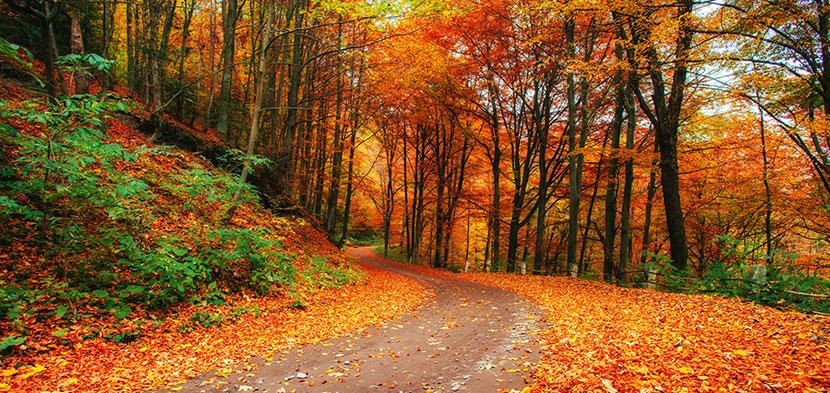 While one should reasonably presume that such a great city is not the ideal background to enjoy the colours of nature, Chicago is not an ordinary urban metropolis. Boasting an amazing lakefront and a wide array of diverse green spaces, Chicago presents itself in a different but always uniquely beautiful attire, and autumn is undoubtedly one of its best; and we have found for you the five best spots in the City to see the autumn leaves giving away to pass of time.
The Morton Arboretum

The Morton Arboretum, around 30 kilometres away from the city centre is a magnet for hiking buffs and nature lovers, as well as mountain bikers who get fixated with the adversities of a physically sculptured course. As for the falling leaves, theirs dyes, a blend of yellow, orange, red and brown, mingle together in a never-ending naturalistic piece of art, forming around you.

The Crabtree Nature Center

No more than an hour away from Chicago's heart, the Crabtree Nature Center encompasses numerous kilometres of trails, lost in greeneries and thick vegetation. Apart from watching the leaves falling, bested by the relentless temperatures of the autumn, the Crabtree Nature Center is also a great place for bird watchers, being home to more than 260 species!

Harms Woods

Much closer to the city – around 30 kilometres – the Harms Woods preserve has several trails for leisure rambles, helping visitors delve within its stunning physical beauty. The place has also all sorts of handy facilities and amenities, including picnic shelters, portable toilets and lawns for pets and sports. Ideal for families with small children.

The Elegant Farmer

This is the perfect choice for those among you wishing to combine the romantic leave falling session with all sorts of autumn festivities. A bit longer from Chicago than the rest of our suggestions (around two hours with a car), it serves as the venue for several great fall festivals, including the Autumn Harvest Festival (weekends from September 15 to October 27), featuring all kinds of fun-packed outdoor activities, including train rides, pony rides and hayrides, as well as apple picking and delicacies contests.

Starved Rock State Park

Last, we have the Starved Rock State Park, less than two hours from city centre. With lots of hiking trails of almost 20 kilometres, snaking through amazing rock formations and waterfalls, it is perfect for visitors who like white water sports, canoeing and kayaking, or even river fishing. If you love a night-time adventure, you can even camp on certain spots within the forest.
Still, you can find equally captivating sights of the autumn within city boundaries. Join a Chicago Segway Tour now and discover what Chicago has in store for you in the most romantic time of the year!