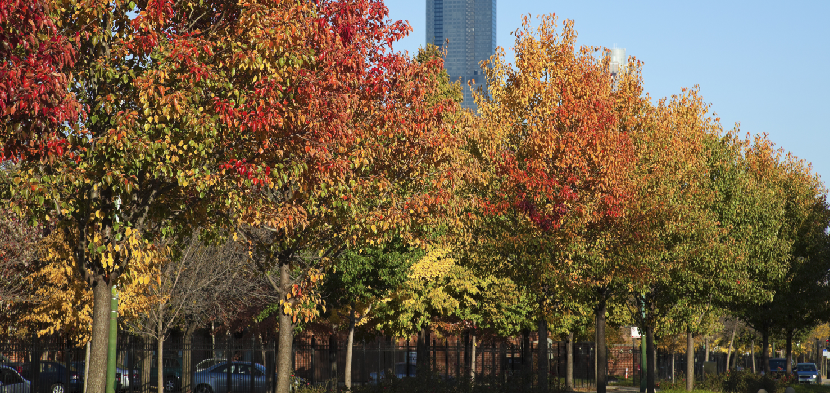 Many people visit Chicago in the summer months, but for those in the know, a visit in fall can be just as wonderful, if not better than a summer Chicago trip. The crowds have gone, you won't have to queue for long to visit all the attractions and the air is a little cooler, giving relief from the heat and humidity of summer.
Chicago is a fun and interesting place to visit all year round, so you're never short of entertainment. It's an incredibly beautiful city, and with so many green areas, take a trip to Chicago in the fall and you'll be treated to the stunning fall display as the leaves turn yellow and red.
Amazing ideas for fall days out in Chicago
Visit the Art Institute of Chicago
You can easily while away an entire afternoon in the Art Institute. There's so much to see and there are always special exhibits on, so even if you've been before, you'll discover something new.
Take a River Cruise
One of the most enjoyable ways to take in the fall colours of the trees is to take a river cruise. The Chicago Architecture Tour is particularly interesting as Chicago is filled with a wealth of architecture spanning many decades and a wide range of styles. Simply relax and enjoy the view.
Visit the Adler Planetarium
You'll find the Planetarium on the Museum Campus. This is one spot you really can't miss when you're in Chicago, but give yourself plenty of time as not only is it home to the awe inspiring planetarium, but there's also an aquarium and the fascinating Field Museum here.
Take a Segway Tour
The most fun way to explore Chicago in the fall is to glide your way on a segway tour. You'll see all the sights and your tour guide will entertain you with information about everything you're seeing. You'll have some wonderful opportunities to take magical fall photos and the whole family will have a blast! For those new to the segway experience, you'll find it really easy to pick up and you'll be off exploring the city before you know it, fully confident with your new-found segway skills!
Stroll around the Botanic Gardens
The Chicago Botanic Gardens are particularly beautiful in the fall, a visit is well recommended while the leaves are still on the trees. There's a lot going on here during the fall too, from craft festivals and farmers' markets to cooking displays and even beer tastings!

Take in the fall cityscape from on high
Take a trip up 1353 feet within the Willis Tower and you'll find yourself at the Chicago SkyDeck Observatory. Offering one of the best views in the entire city, you can literally see for miles. You can even step onto 'The Ledge', a transparent viewing deck that juts out from the main building. With a clear floor, it's certainly not for the faint hearted!
So how about a trip to Chicago this fall?
With so much to see and do, you simply can't go wrong when you choose Chicago for your fall vacation. Why not book your Chicago segway tour before you go? For more information and to book your tour visit our website today!