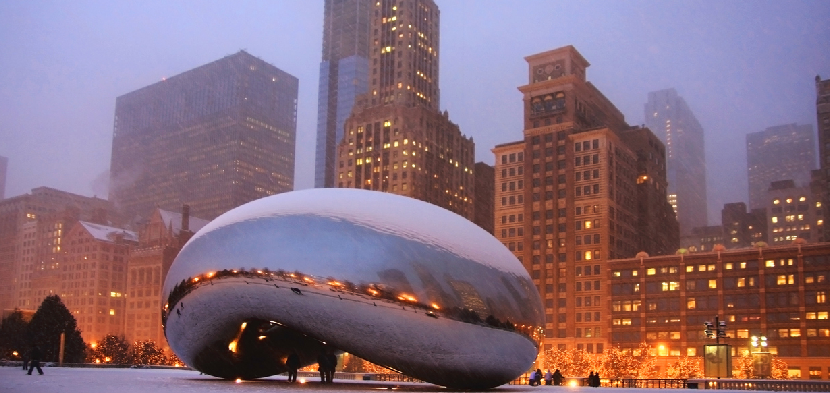 Chicago - the name has long ceased to be the emblem of organised crime and Al Capone. Being the third most populous city in the States, Chicago boasts such a diverse and multifaceted character, that visitors are hardly expected to see even a third of its most famous sights and monuments in a week's time.
A smart way to explore more of the City without getting stuck in long queues is to plan your visit off-season. In fact, there are several other reasons justifying such a decision.
Great Prices for Air Tickets and Accommodation
Travelling to Chicago off-season will undoubtedly have a positive impact on your budget. No matter the airport you choose, you will find that most airlines offer great discounts on tickets during the winter, especially if you are planning to make the trip as a family.
The same applies to hotel prices too, with packages that are not even heard of during the high season. Without a doubt, if you are on a budget, winter is the best time of the year for a visit to Chicago.
Enjoy the City's Architecture and Public art
Chicago is world-renowned for its architectural marvels, especially its century-old skyscrapers, wonderful bridges and imposing business centres. The best of them all, Skydeck at the Willis Tower, offering visitors a unique panoramic view of the city's heart through its towering glass box!
Public art is also quite famous in Chicago, displayed all around the city. Everywhere you go, you may marvel at sculptures, graffiti, monuments and landscaped areas, while Chicago's Art Institute is home to some highly esteemed works by Picasso and Monet.
However, "Why winter?" you may wonder. Does this season add charm in any way to the city's architecture and public art? Actually, it does…
No Queues and no Crowding
To be sure, summers in Chicago are mesmerising, but the crowds of visitors flooding in from all over the world can diminish the joy of sightseeing and surely tire you a bit more.
In winter, though, things are different. Public sights and tourist attractions are much less crowded, and queue waiting is counted in single-digit minutes, not single-digit hours.
So, answering the previous question, yes, winter may add charm to your sightseeing in Chicago.
Go to the Theatre
Chicago hosts the most spectacular and lavish shows in winter, diverse in character and kind. From musical plays to operas, from romantic comedies to Shakespeare, you will definitely find something matching your taste.
Perfect Scenery for Amazing Photos
Chicago's winter apparel features such a spectacular blend of golden, white, reddish and yellow hues that make it the perfect scenery for truly unique photos. Be it selfies or landscape snapshots, your photos will never be ruined by passing tourists and rambles of visitors. You will have the chance to encapsulate nothing more than your theme and sight that caught your attention.
Have you ever wondered how you could explore most of Chicago's sights economically, effortlessly, in just a couple of hours and in the most fun-packed-way?
Take a look at our Chicago Segway Tours!