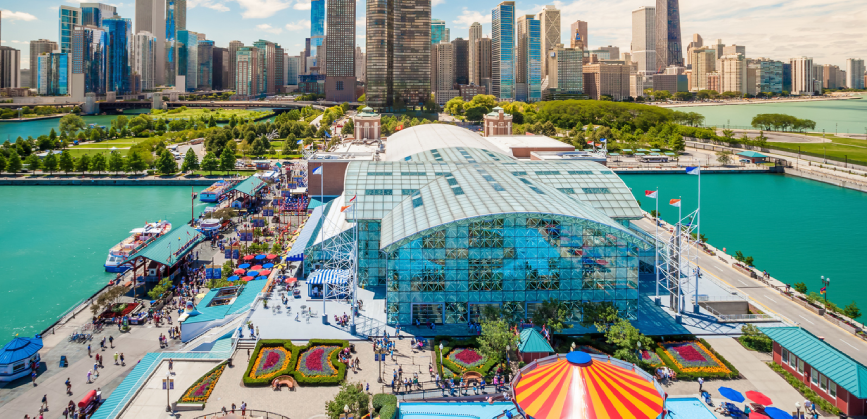 One of Chicago's most significant landmarks, the Navy Pier stretches for more than 3,000 feet along the city's shoreline of Lake Michigan.
Encompassing almost 55 acres of parks, gardens, and all sorts of shops, sights and attractions, the Navy Pier ranks among the top Midwest destinations, with almost two million visitors every year! Do you know why it remains so popular?
Check 8 things you must know about Navy Pier before spending your next weekend in Chicago!
Navy Pier's Diverse Past
Numbering already more than a century of constant use, the Navy Pier has served the city of Chicago in numerous and quite different ways. It has been a recreation and entertainment venue, a university, a naval base, an army base, a convention centre, as well as a food storage facility.
Army Training Grounds – Even for Presidents!
Back in the days when Navy Pier was an army base, it also served as a pilot training centre! In fact, during the turbulent years of World War II, George Bush the Senior, who was to become one of the most well-known Presidents of the USA, was trained there as a pilot.
It wasn't Always Called that Way
Yes, and that is something most people don't know about the Navy Pier. Initially, it was known as the Municipal Pier and was given its current name in 1927, honouring the Navy personnel housed there during the Great War (as World War I was called back then).
Designed by...
The Navy Pier was actually designed by one of the most famous architects of the dawn of the 20th century, namely D. Burnham. Back in 1909, Burnham drafted a truly grant urban plan for Chicago, which included five piers, one of which was the Navy Pier. In fact, in his plans, it was called the "People's Pier!"
A Ferris Wheel Buff?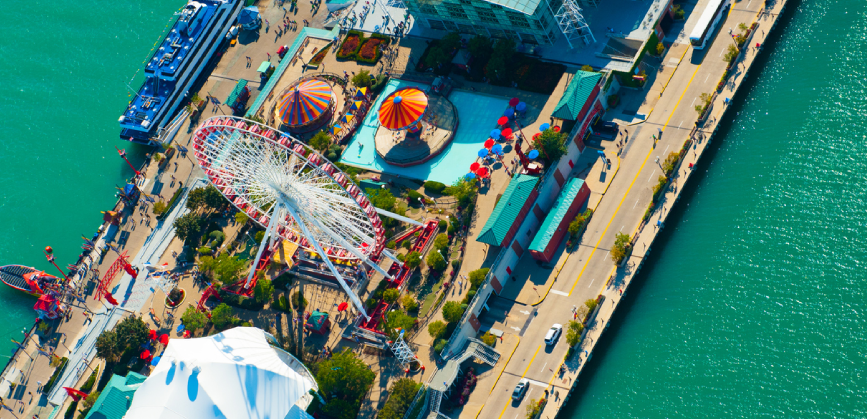 Then you would love to know that the Navy Pier area was the original home of the first-ever Ferris wheel, designed and constructed by G. Ferris in 1893! The erection of the Farris Wheel was a way to promote and publicize the World Columbian Exposition, held that year in Chicago.
A Bright Future Ahead…
Celebrating its century of life in 2016, the local authorities thought of redesigning most of the Navy Pier's area. Actually, some of the work has already begun.
Great time to Visit!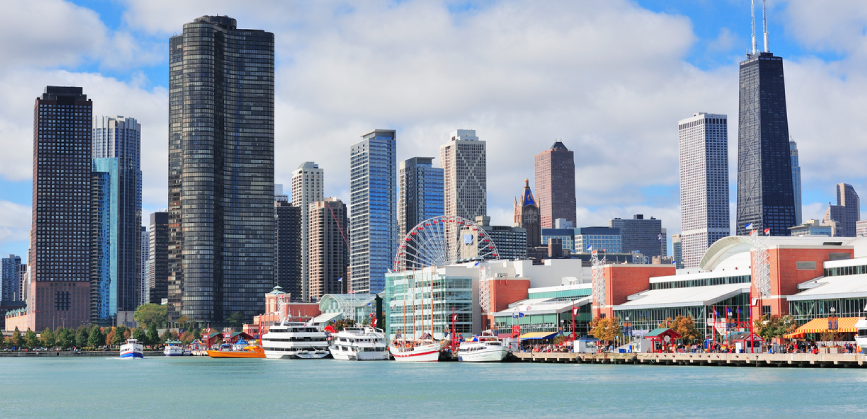 This spring and summer will be a great time to visit the Navy Pier, especially with your family. Several attractions are scheduled to celebrate some of the area's landmarks. On top of that, several world-class events are already announced throughout the spring and summer.
Made it to the World Record Book
Boasting a length of 3,300 feet, Navy Pier was the world's largest pier when its construction finished on July 15, 1916.
Do you know the best way to roam around the Navy Pier and seeing it all without dropping down from exhaustion? Book your Chicago Segway Tour now!