When you're visiting a new city, there is so much to see and that's definitely the case when you visit Chicago! You'll certainly want to spend a lot of time exploring all that the city has to offer, seeing the sights and visiting all the attractions, not to mention all those great photo opportunities that await you. Discovering a city on foot can be virtually impossible. There's just too much ground to cover, it's exhausting and it can be a real strain. When you're on vacation, you want life to be a little easier, so the solution of course is to take transport. However, if you care about the environment, and want to have as little impact on it as possible, the other options such as hiring a car, taking a taxi or hopping on a bus tour are not ideal when you consider the pollution these vehicles cause. If you're keen on eco-tourism and don't feel comfortable adding to levels of harmful chemicals in the air purely for your pleasure on vacation, then don't worry, there is an answer…
Take a segway tour – the ultimate green transportation option
The answer to this dilemma is to book a segway tour. A segway is highly energy efficient and it doesn't give out any harmful chemicals whatsoever. It's also very quiet so you're not even creating noise pollution when you opt for a segway tour!
So many more benefits besides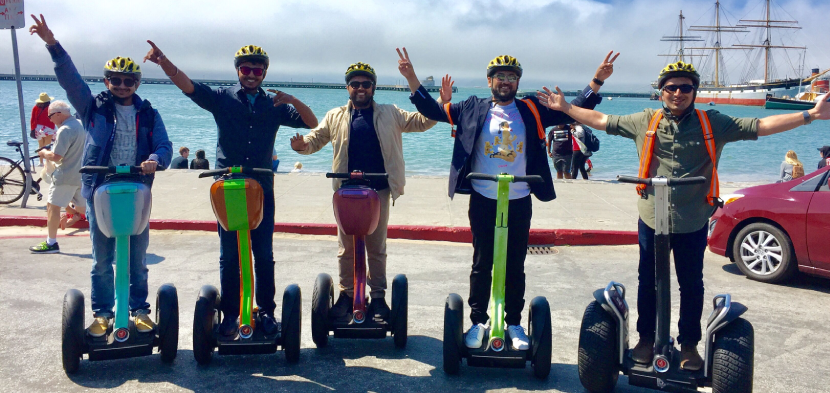 So yes, the segway is the way of the future for eco-tourism, but it also has many more benefits. Perhaps most importantly, riding a segway is incredibly good fun. You can't help but smile when you ride a segway, you may even laugh, but you'll certainly truly love the experience that's like no other. Once you've taken a segway tour, you'll realise that it's so much more exciting than any bus tour could ever be. Riding a segway is also surprisingly easy. Some people are put off because it looks precarious, but the secret is that a segway is self balancing, it really is quick to get to grips with. Give it a try and you'll soon realise just how easy it is.
With a segway tour, you won't get tired feet and you can go faster than you would on foot, so you can see so much more of the city in a shorter time, and you won't end up exhausted! Another advantage is that your segway tour will take you to places that are not accessible on a bus or with a car, so you'll get to see even more great sights.
Exploring is much better with a guide
When you're new to a city, you've probably found some big attractions you'd like to visit, but unless you're very familiar with a place, especially a city like Chicago, you'll miss some real gems if you're touring the city on your own. When you take a segway tour, you get the benefit of the experience and knowledge of an expert tour guide who will take you to all the most interesting places and give you plenty of information about the history of Chicago. It really is fascinating and it's an incredibly fun way to learn more about a place.
Book your environmentally friendly tour today
If you'd like to book the greenest and most fun Chicago city tour then head to our website. You can book your tour online today!