Nothing shows your friends and family back home that you're having a great time on vacation quite like a selfie! Whether you're visiting Chicago alone, with your family or a group of friends, you can all get in the picture and share it far and wide on social media.
But all the best selfies have that little extra. Put some thought into the setting, pick out the perfect backdrop and you'll have the most awesome selfie that's worthy of all those extra likes. So to make your life easier, we've picked out some of our favourite spots in the city that are picture perfect for selfies…
The Chicago Skyline
There's something special about city skylines and Chicago is the perfect city for your skyline selfie. Choosing the right spot is key for this, and we suggest a trip to the Adler Planetarium at the edge of the Museum Campus. The planetarium itself is a great place to visit, as is the Shedd Aquarium close by, but don't forget to take a moment to stand in front of Lake Michigan with the Chicago skyline behind you and snap that all important selfie! Lincoln Park Zoo is also a great spot for skyline selfies.
The Navy Pier Ferris Wheel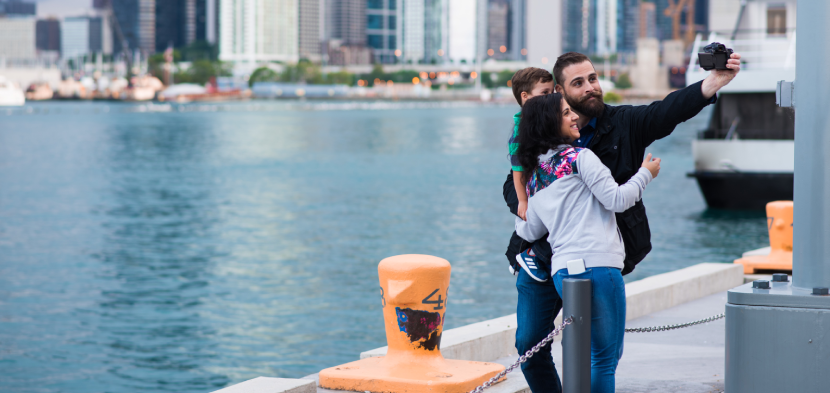 You get two selfie options here. You can simply take a selfie stood in front of the famous 150ft Ferris Wheel, or get on board, enjoy the ride, and have some stunning aerial cityscapes as your latest selfie background.
Chicago Theatre
The marquee sign of the Chicago Theatre stands six storeys high and make a stunning backdrop for your selfies. Pick a day when one of your favourite big name celebrities is on the bill and your selfie gets even better!
Selfies for Sports Fans
Impress sports fans back home with a selfie in front of the iconic red marquee at Wrigley Field, home of the Chicago Cubs. Or head to the United Centre for a selfie with the stunning bronze sculpture of basketball player Michael Jordan.
Cloud Gate
Nothing quite says Chicago like Cloud Gate, or 'the bean' as the locals call it. This massive sculpture located in Millennium Park has become an icon of Chicago. In front of the sculpture there are some shallow steps. The perfect place to sit and take your selfie. The gleaming mirrored surface of Cloud Gate will reflect the city skyline behind you.
Picasso Sculpture
Following on the sculpture theme, head to Daley Plaza and grab a selfie with the huge sculpture created by Pablo Picasso. It's so impressive.
Buckingham Fountain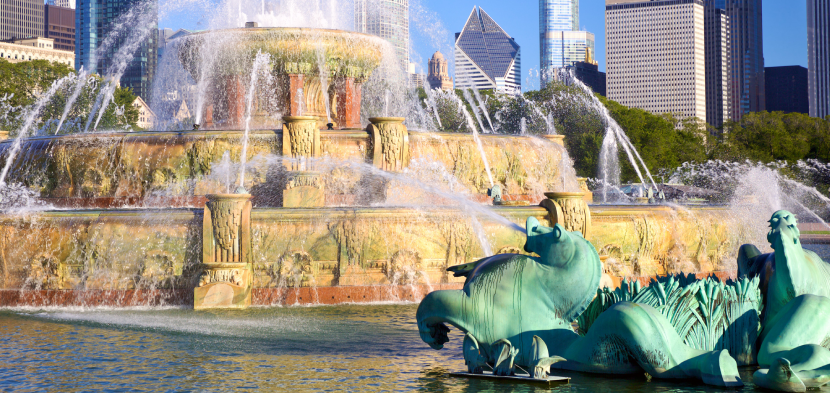 Add a little magic and romance to your selfies with a visit to Buckingham Fountain. It's one of the biggest fountains in the world, with shows every hour, it's captivating to watch, and at night you can enjoy the addition of beautiful lights.
A Selfie with Maximo
Who could resist getting a selfie with Maximo, the massive 122 foot titanosaur at the Field Museum?
The Ledge
Fancy a sky high selfie from 1353 feet up? Head to The Ledge at Skydeck Chicago for this specular awe inspiring selfie opportunity. Step out into the glass box, that leaves you hovering above the city as if there is no floor or walls around you. Conquer your nerves for this ultimate Chicago selfie.
Discover more selfie spots on a segway tour
Chicago is simply packed full of amazing places that will be perfect for your selfies. Book a segway tour to find even more selfie opportunities, and have a fabulous trip around the city in segway style!