Adrenaline is produced in our body for a reason – and a dose of this stimulating hormone is necessary, even it is just to remind us what a great and wondrous journey life is.
Chicago has what it takes to rock you – in fact, during the last decade it has gained a reputation as a fantastic destination for adrenaline addicts. Since you make plans on visiting this vast metropolis, why not pump your veins a bit? Below you will find 4 activities that will boost your adrenaline levels during your stay in the "Windy City."
Skydiving
Let's start with an adrenaline sky-rocket. Chicago offers excellent skydiving experiences to visitors who are willing to cross the line and see the planet's phase from the standing point of a (falling) angel!
The sheer exhilaration of plummeting down toward the face of the earth at more than 100mph, the amazing views of the city and its surrounding landscape, and the opportunity to share this one-of-kind experience with your family or friends make skydiving in Chicago a "must-try" outdoor activity for all the adventurous souls out there.
Hang Gliding
Airplanes are great. Modern airplanes, in fact, have made flying easier and safer than driving. Still, their amazingly high altitudes and air-tight fuselages with their tiny little windows deprive us of the genuine feeling of flying. For those of you want to live it, hang gliding is their best option.
Have wings up on your back (and possibly your instructor!) and nothing but the air hitting your face, while below you stretches the vast horizon and mesmerising landscapes of both the city and its suburbs – this is what genuine flying really is! The best thing about hang gliding, and its most significant difference with our first selection, skydiving, is that it gives you the opportunity to control your flight – to turn and dive, to go up and circle around. Yes, flying at its best.
Paragliding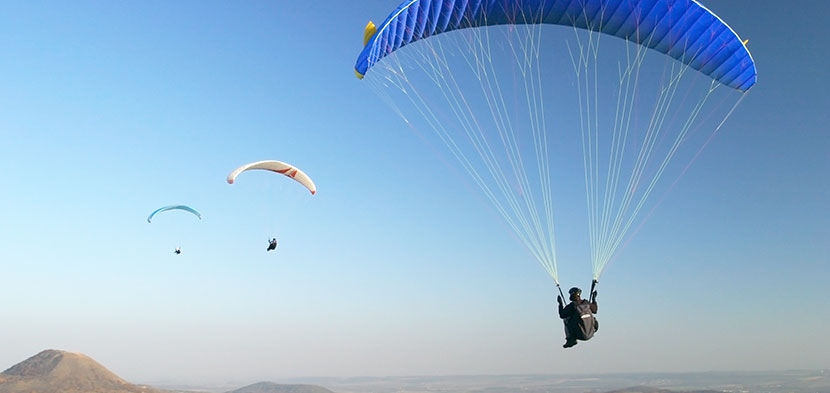 Ok, you have probably understood already we love the air and marvelling at Chicago's charms and skyline from above. Still, this does not mean we are wrong. Our next pick proves it!
Paragliding is one of the most relaxing, revitalising aerial sport and falls somewhere between our previous selections. While you spiral leisurely towards the ground (much slower than in skydiving), you have the chance to control your movement and enjoy the thrill to the full.
Wish to take it a step further? Chicago also offers a more dynamic version of paragliding – the so-called paramotoring, where you are propelled through the air by an amply sized back-engine. Thus, even if there are no winds above Chicago, which is a bit unlikely, you can still enjoy your paragliding session!
Join a Segway Tour in the City of Winds!
Ok, time to get down to earth, don't you think? Segway tours may do not strike you as an extreme activity that will blow your mind away, but make no mistake – riding a Segway around this city of wonders is equally thrilling, especially while hearing all sorts of interesting legends about Chicago's turbulent and exciting past.
So, why delay? Join a Chicago Segway tour today!