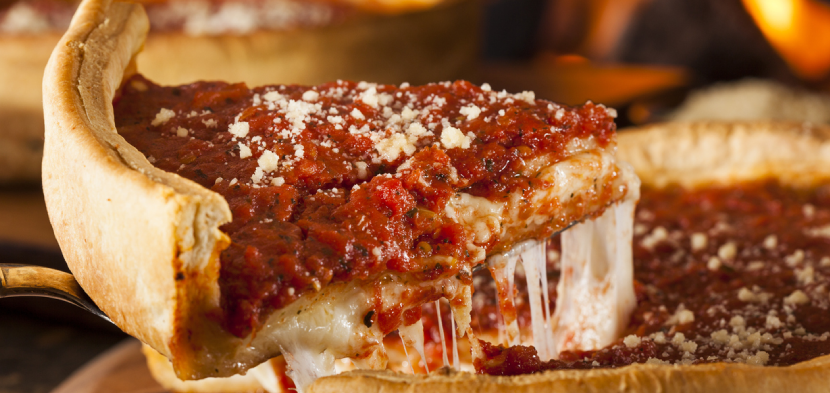 You have made plans of visiting the third-largest city in the States for a few days, and you should prepare yourself to see and experience as much as possible during your stay – including the local delicacies.
Being a melting pot of several different cultures, Chicago offers such a vast range of great-tasting dishes that it would be a pity to stick to your usual picks. Down to the city centre, especially around the metro area, you will find several joints that will offer you a chance to dive into genuine local tastes.
Deep Dish Pizza
No matter your preferences when it comes to pizza toppings, Chicago's pizza version will blow your mind away. Aside from finding a great variety of pizzas even to the smallest street-food joint, Chicago boasts its own unique 'pizza child', generally known as the ''Deep Dish Pizza.''
Few are known with certainty about its origins, but simply Chicagoans adore it - and for good many reasons! A standard Deep Dish Pizza combines a sturdy, buttery crust moulded into a high-sided pan, layered with cheese, enriched with a thin sausage patty and whatever topping one prefers, as well as a thick layer of tomato sauce.
You probably won't be able to eat more than a couple of slices of this hearty dish, so better order a pie for the whole family!
Chicago Hot Dog
Chicago's hot dog has a rather bizarre and interesting story behind it. Stuffed into poppy seed bun and topped with yellow mustard, it is garnished with green relish, chopped onions, tomatoes, pickle spear, and sport peppers. It traces its origin in the gloomy years of the Great Depression when hundreds of thousands of unemployed had hot dogs as their only option for a cheap and tasty delicacy.
According to some, its ingredients reflect the city's cultural diversity, since it integrates the all-beef dog of the Jewish-German immigrants, the poppy seed bun from Polish workers, and several key additions inspired by the Italian, Greek and American cuisine.
Ah, something else. If you value your life, do not ask for ketchup!
Chicago's Fried Chicken
Visiting Chicago and not trying the local fried chicken dish is nothing less than a sacrilege.
Their crispy version of this wonderful delicacy was the creation of Harold and Hilda Pierce, who founded Harold's Chicken Shack 70 years ago. Nowadays, their small restaurant has grown into a food colossus, with tens of joints all across the neighbouring states. Initially very popular just among the black community in Chicago, Pierce's fried chicken is a 'must' for all first-timers in Chicago.
Donuts
Locals take their donuts very seriously – and you should do exactly the same. Besides, it will not prove difficult to find fried-dough joints across the city, and all of them excel in their quality.
Donuts appeared in the 1934 World's Fair held in Chicago, advertised as "the food hit of the Century of Progress!" and quickly becoming a local favourite. Donuts' popularity has only grown since, with Chicagoans preferring them baked, fried, glazed and rolled in sugar. Another popular version wants them topped with nuts, sprinkles, bacon and cereal!
Cheeseburger
Closing our list, we just couldn't leave out Chicago's cheeseburger, which was not born in the Windy City but it remains one of the most loved foods among locals and visitors alike.
Accompanied by the usual pile of French fries, the cheeseburger is available in the menus even of gourmet restaurants in Chicago! Locals usually prefer it in its two-patty version, hinged on thin, griddled patties blanketed in American cheese and garnished will all sorts of toppings, such as Dijonnaise and pickles.
Eating plan in order - but have you booked your Chicago Segway tour yet?