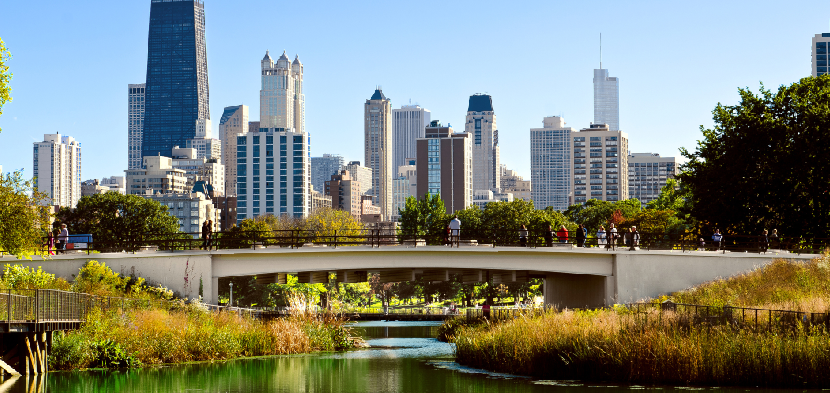 Chicago is the ideal city for exploring on a segway. You'll see so much more than you ever could from a bus tour, and you'll get around faster than if you were walking, so you can see more in less time. Of course, you mustn't forget that it's also way more fun than any other mode of transport you could use to tour the city!
If you're a newcomer to the segway, then rest assured, it's really simply to learn to ride. You'll be fully trained before you set off on your tour, you'll quickly get to grips with how the segway works and you'll be confident in no time. It really is an experience that has to be tried rather than described, so bring the whole family along for an amazing time.
So why should you take a segway tour in Chicago? Read on and find out…
Chicago is an open air museum
With the breeze in your hair, as you glide around the Museum Campus area, you'll find so much to see and explore. It's a fascinating area, with some stunning scenery and lush green gardens. Here you can see Sue the T-Rex in the Field Museum, visit the world's first ever indoor aquarium, see the stars at the Mammoth Adler Planetarium, and for sports fans, you'll also find Spectacular Soldier Field here, home to the Chicago Bears.
Stunning photo opportunities
On a segway tour, you'll have so many opportunities to take some amazing photos, capturing your trip to Chicago while creating some amazing memories. From scenic views, to fascinating architecture, famous buildings and lively streets, there's so much to capture!
It's the ecological option
If you care about your impact on the environment, then the segway is the perfect green option! Segways run on electricity, so there's no emissions and therefore no pollution.
See the spectacular Lakefront views
The Chicago Lakefront is pretty impressive, and you'll be able to explore much more of it on a segway tour than you could on foot. Your endless scenic views will be interspersed with some wonderful attractions. Take a moment to watch the beautiful Buckingham Fountain, breathe in the scented aroma of the Rose Garden and see the quirky Clossal Agora Sculptures, consisting of 106 feet that stand 9ft tall!
Admire the majestic Chicago skyline
With the perfect mix of historic buildings and awe inspiring skyscrapers, the Chicago skyline is truly unique. Take a segway tour and experience a wide range of wonderful views. Take an evening tour for a totally different experience that's verging on the magical!
It really is the best way to see the city of Chicago
Why do something the ordinary way, when you can do it the extraordinary way! A segway tour is more than just a tour, it's a whole new experience that you'll never forget. Kids can get fed up on a walking tour, and a bus tour can whizz by everything too fast to really see everything. With a segway tour, no one ever gets bored and your tour will take you to places that the bus tours simply cannot reach. So why not book a segway tour for the next time you're in Chicago. You can book directly from our website today.