Chicago has so much to offer for families. Whether you live in the city or you're visiting on a break, you'll find plenty of sights to see and things to do that will delight children of all ages. Here are just some of the fabulous places you can visit with the kids that everyone will enjoy…
31st Street Harbor
Set close to Lake Michigan, 31st Street Harbour is a huge hit with the kids. The splash pad is a great place to play with slides, water jets, climbing walls and much more to entertain. It's just perfect on a hot day if you need to cool off. There's a playground close by too and when you've all finished having an exciting time at the splash pad, you can easily walk to the beach to relax and have a rest.
Chicago Riverwalk
The Chicago Riverwalk has had a recent extension added and the area has so much to offer for all ages. Stroll along the mile and a half long walkway and enjoy free theatre performances, discover fun art installations and stop at one of the many great places to eat.
Centennial Wheel at Navy Pier
The views from the 200ft Centennial Wheel at Navy Pier are absolutely spectacular. Take a trip on the wheel and you can guarantee the kids will be talking about it for many months to come. The gondolas are enclosed, so you don't have to worry about safety, or the weather spoiling your ride.
Loyola Beach
Kids love a trip to the beach and Loyola beach is very child friendly. The waters are generally very calm, and swimming is allowed whenever the life guards are in attendance, which is generally between 11am and 7pm so you'll have plenty of opportunity for a dip in the lake. The sandy beach is a great place to play, to relax or to get active with some beach games.
Oak Street Beach
Another great beach to visit on your trip is Oak Street Beach. With white sand and clear calm waters, it's an ideal spot to stop for a break while you're exploring the city. With plenty of amenities such as cafes, restaurants, lounger hire and restrooms, life is easy when you visit Oak Street Beach.
Chicago Botanic Garden
You can spend hours exploring the 385 acres of the Chicago Botanic Garden. You'll find 27 different gardens to discover and there are plenty of opportunities for the little ones to let off steam, with the Nature Play Garden full of hills to climb, and the new 26,700 square foot learning centre which offers interactive and educational classes for children of all ages, from toddlers to teens. The Chicago Botanic Garden also hosts free concerts in the evenings throughout the summer months.
Visit these places and more on a segway tour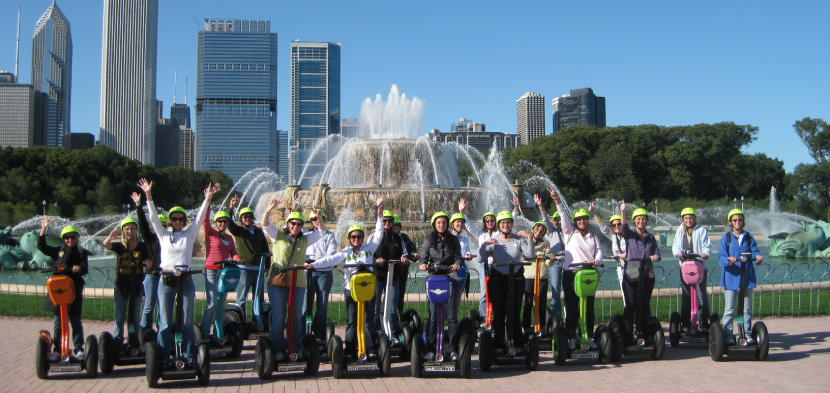 One of the first things you should do when you visit Chicago is take a segway tour. Your tour will take you to these fun places and many more besides. You can take a look at all the great attractions around Chicago and make a note of those you'd like to come back to, to spend the day enjoying. You'll also learn a lot about Chicago on your tour, it's truly fascinating and very educational, for the kids and the grown ups too! Of course, it's also incredibly good fun and totally suitable for children. Riding a segway is actually very easy, your kids will probably pick up the technique before you do! Don't forget to take a family photograph of all of you on your segways to remind you of the fun time you had!